153rd New Year Sprint Meeting
For the second year in a row, the historic New Year Sprint was delayed until a July performance. COVID was the cause last year, this year the wait was for completion of the new Meadowbank Sports Complex, writes David Rothwell. Ultimately the event was staged on 30th July and 31st July 2022.
The New Year Year Sprint had the honour of being the inaugural event at the new stadium.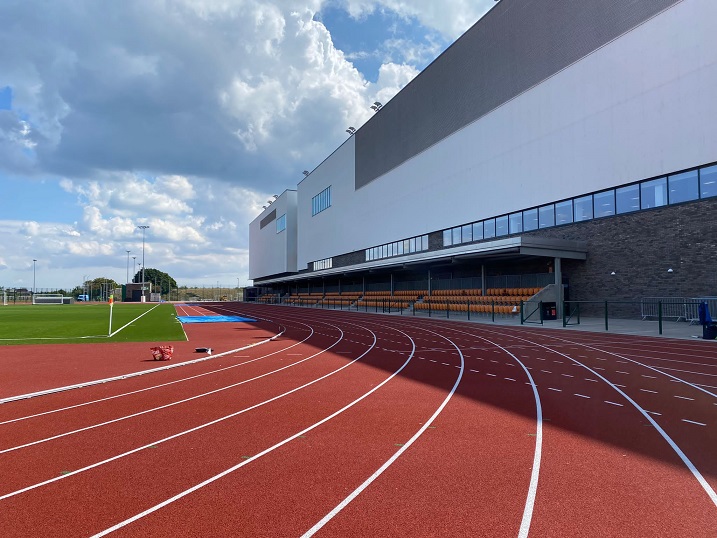 Approaching the home straight at the new Meadowbank Sports Centre.
Photo: Gabby Rothwell-Blake.
Delays meant nothing to Stacey Downie though, as she stormed down the brand new track to hold on to the lead from gun to tape, winning in a very swift time of 11.15 seconds. Stacey collected a cheque for &pound5000, a medal and the splendid Eric Liddell Memorial cut glass trophy, to go with mantle of 153rd New Year Sprint winner.
Stacey was a popular victor, having competed in the New Year Sprint most years since her inaugural performance as a 17 year old in 2004. Previous best placings were third and fourth in 2020 (151st New Year Sprint) and 2015 (146th) respectively.
This triumph in the New Year Sprint followed on from gold medals in the 200 metres and 400 metres at the recent World Masters Championships in Finland - a truly exceptional run of success for Stacey. Many congratulations from us all!
Back to the Sprint, Scott Tindle appeared to catch Stacey in the last few metres, but Stacey somehow found an extra gear to break the tape. Scratchman Krishawn Aiken finished half a yard back with Craig Bruce another yard behind. Rebecca Grieve, who was just edged out into fifth, was followed by Euan Cunningham and Ross Morgan with Iain McEwan in eighth.
Krishawn's run of 110 metres in 11.24 seconds indicated a performance of 9 yards "inside evens", a performance out of the top drawer. This was achieved despite a headwind.
Odds for the final were 4/5 for Craig, 3/1 for Stacey, Ross, Rebecca and Euan with 6/1 for Iain and Craig. Krishawn was off the board. Prices were courtesy of veteran bookmaker Archie Scott.
A note about the runners' times; the stadium photo-finish was unavailable so winners were hand timed and the times of placed runners were determined from the winner's time plus differentials that were determined electronically from a portable device.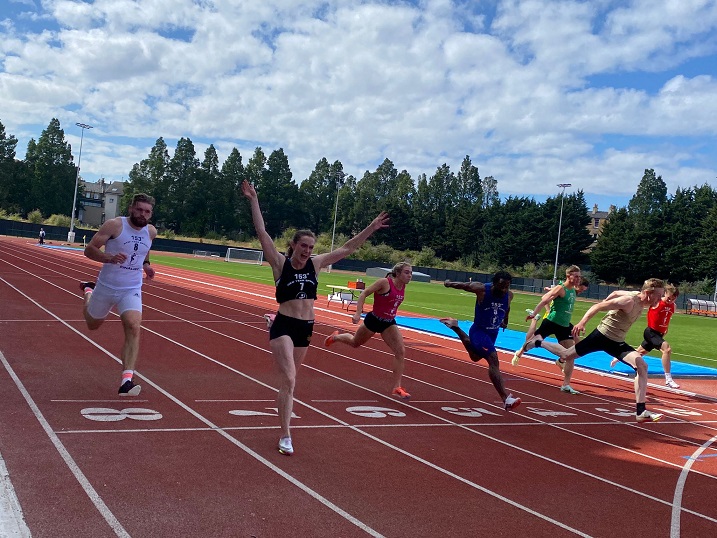 Stacey Downie winning the 153rd New Year Sprint. From left to right: Craig Bruce (4th), Stacey, Rebecca Grieve (5th), Krishawn Aiken (3rd), Ross Morgan (7th), Iain McEwan (obscured, 8th), Scott Tindle (2nd) and Euan Cunningham (6th).
Photo: Gabby Rothwell-Blake.
Stacey, representing Edinburgh AC and running off 17 metres, caught the eye early on as she won her heat in 10.88 seconds, the fastest time of the day. Euan Cunningham of Falkirk VH (5.5 metres) in heat 11 and Rebecca Grieve of Pitreavie AC (16.5 metres) in heat 6 also broke 11 seconds. In heat 3, Ross Morgan of VP Glasgow AC (7 metres) clocked 11 seconds dead, easing down. The other heat winner of note was Scott Tindle of TLJT (9 metres) who had a comfortable win in the first heat in 11.22 seconds. Turnout was disappointing with several heats decided by a walkover.
Heat performances benefitted from a strong tailwind with the runners bathed in warm sunshine. For the cross-ties held the following day, temperatures had dived and the wind turned into a gusting headwind.
With the slower conditions in the cross-ties favouring runners starting down the track, Scott Tindle in the third cross-tie was fastest up in 11.49 seconds, beating Stacey by about a yard, with Craig Bruce of Selkirk (10 metres) the other fastest looser qualifying for the final. Scratchman Krishawn Aiken of Kilbarchan AC scorched through the 110 metres in 11.68 seconds to win the fourth cross-tie, having won his heat in a walk over. Euan Cunningham also qualified for final. Rebecca Grieve won the third cross-tie in 11.70 seconds, with Iain McEwan of Whitemoss AC (8.5 metres) joining her in the final. Ross Morgan also qualified for the final after winning the first cross-tie in 11.91 seconds.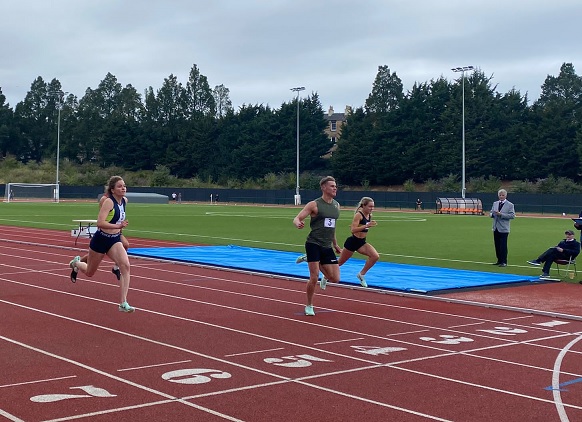 Ross Morgan winning the first cross-tie. From left to right: Layla Zuill (2nd), Douglas Young (obscured, 4th), Ross and Sofia Vidak (3rd).
Photo: Gabby Rothwell-Blake.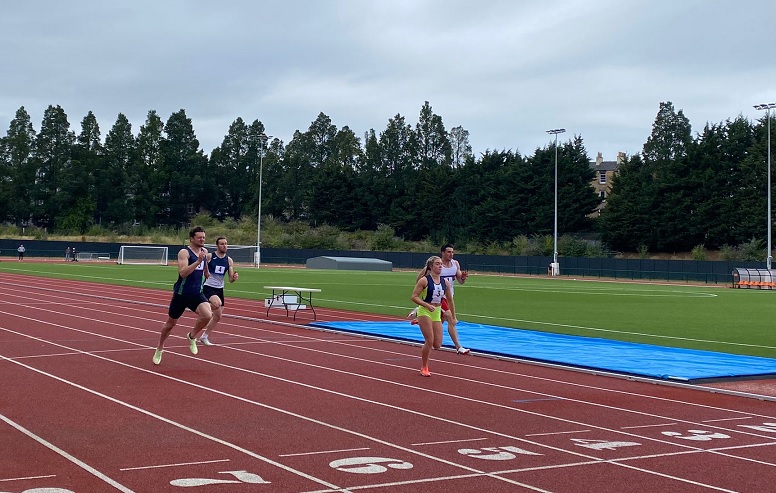 Rebecca Grieve on her way to winning the second cross-tie. From left to right: Iain McEwan (2nd), Steven Dunlop (3rd), Rebecca and Charlie Carstairs (3rd).
Photo: Gabby Rothwell-Blake.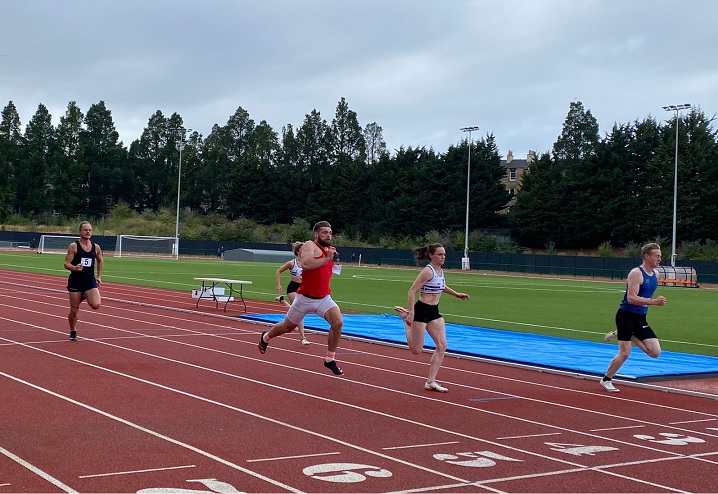 Scott Tindle winning the third cross-tie. From left to right: John Armstrong (5th), Mollie Reville (partly obscured, 4th), Craig Bruce (3rd), Stacey Downie (2nd) and Scott.
Photo: Gabby Rothwell-Blake.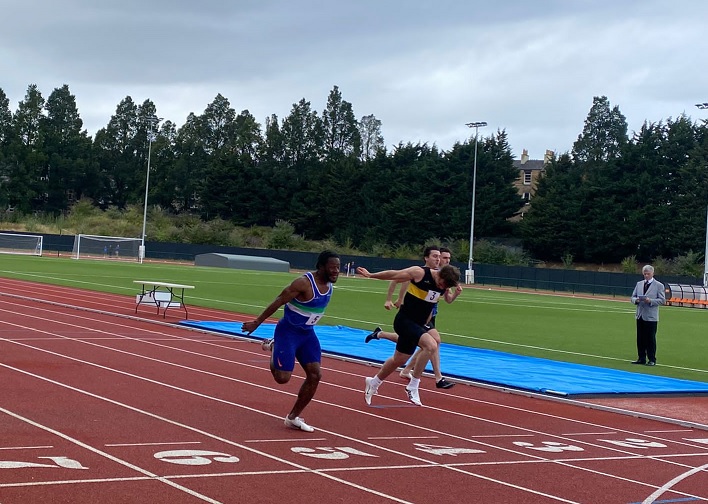 Krishawn Aiken winning the fourth cross-tie. From left to right: Krishawn, Euan Cunningham (2nd), Gordon Armstrong (partly obscured, 3rd) and Murray Blair (partly obscured, 4th).
Photo: Gabby Rothwell-Blake.
Come the final, conditions had improved somewhat with higher temperatures and although a slight gusting wind was still blowing into the runners' faces, faster times seemed on the cards.
Proceedings on the first day, Saturday 30th July, opened with the 800 metres Open Handicap run as a straight final due to the number of competitors. Grant Kennedy of Auchterarder (130 metres) won by half the length of the home straight in the fast time of 1:48.08. Oscar Logan of Law & District AC (15 metres) was second with seasoned competitor Craig Bell of Forfar (140 metres) in third.
The 90 metres Youths Handicap, traditionally the first final of the day, but this time beaten by the 800 Open final, saw Charlie Hunter of Dunfermline T & F (21 metres) just hold off fast finishing backmarker Omar Bajo of Edinburgh (2.5 metres) in 9.25 seconds. Rachel Barnett of Dunfermline AC (21 metres) held on to third with Craig Tindle of TLJT (11.5 metres) in fourth. Ramsey Blair of Lasswade AC (7 metres) overcame Olivia Muir of Harmeny AC (15.5 metres) for fifth.
The 800 metres Youths Handicap saw Rachel Barnett (175 metres) improve two places on her third in the Youths sprint with a winning time of 1:58.10. Eloise Scott of Lasswade AC (125 metres) was runner up with Rory Fleming of Kelso (190 metres) gaining third place with scratchman Kieran Fulton of Moorfoot Runners in fourth.
A low turnout saw the 90 metres Veterans Handicap run as a straight final with victory going to Keith Kong of Lasswade AC (14.5 metres) followed by John Fleming of Kelso (10.5 metres), Tom Bradley of Edinburgh (25.5 metres) and Angela Kelly of Giffnock N AC (28 metres) in fourth. Darren Towart of Tynedale AC (10.5 metres) and Gordon Eland of Great Broughton (29.5 metres) completed the lineup.
The last final of the day, the 90 metres Ladies Handicap also suffered a low turnout rendering heats unnecessary. Nevertheless, competition was fierce, with Rebecca Grieve (1.5 metres) getting the verdict from Stacey Downie (1 metre) with Sofia Vidak of Glasgow S S (1.5 metres) in third and Megan Busby Bell of Sheffield & Deane AC (3.5 metres) in fourth. Fifth was Samantha Turnbull of TLJT (7 metres) followed by last year's New Year Sprint winner Molly Reville of Edinburgh AC (2 metres) with Natasha Turnbull of TLJT (9.5 metres) in seventh and Angela Kelly (17.5 metres) eighth.
Conditions for the start of the second day of the meeting, Sunday 31st July, were more reminiscent of traditonal New Year Sprint meetings with a cold wind and grey skies threatening rain.
The first final of the day, the 200 metres Youths Handicap - aged 9 - 13 years followed the conclusion of the New Year Sprint cross-ties. Charlie Hunter (42 metres) gained his second victory of the meeting in 22.85 seconds, having won the 90 metres Youths the day before. Jess Knox of Jedburgh, also on 42 metres was second with Euan Robertson of Central AC (50 metres) third.
The Mile (1609 metres) Open Handicap made a return to the programme after a 52 year break, with an easy win for Alastair Scott of Lasswade AC (29 metres). Robbie Welsh of Hawick (79 metres) ran well for second with backmarker Thomas MacAskill of Hawick (9 metres) coming in for third. John Thomson of Glenrothes (159 metres) was fourth and Craig Bell (229 metres) fifth.
The 200 metres Youths Handicap - aged 13 - 16 years was won in 22.15 seconds by Omar Bajo (5 metres) who swept through the field. Craig Tindle (25 metres) took second with Eloise Scott of Lasswade AC (38 metres) holding off Olivia Muir of Harmeny AC (34 metres) for third. Euan Laird, also of Harmeny AC (11 metres) was fifth with Ramsay Blair of Lasswade AC sixth.
Victory in the 200 metres Open Handicap was a foregone conclusion after Harris Morrison of Greenock Glenpark AC (27 metres) ran comfortably the fastest heat. Harris won the final in 22.09 seconds with Sofia Vidak (32 metres) in second, surprisingly ahead of ahead of Murray Blair of Lasswade AC (11 metres) who ran a signficantly faster heat time. Layle Zuill of Fife AC (29 metres) was fourth with Stewart Clark of Stonehaven (11 metres), who beat Sofia in the heats, fifth. Scratchman Greg Kelly of East Kilbride, a double winner of the New Year Sprint, was sixth.
The final final before the final of the Big Sprint was the 100 metres Short Limit Invitation Handicap. Charlie Carstairs (8.5 metres) just took victory in a closely fought contest in 11.25 seconds from Gordon Armstrong (6.5 metres) with Samantha Turnbull (20 metres) edging out Stephen Dunlop (0.5 metres). John Armstrong (12 metres) was fifth ahead of Natasha Turnull (23.5 metres) and Douglas Young (1 metre).