The New Year Sprint is the most enduring open athletics event in the UK. A handicap race held over 110 metres, the Sprint has been staged in Scotland on or around New Year's Day annually since 1870. Competitors, both amateur and professional, vie for prize money totalling over eight thousand pounds.


The 145th New Year Sprint is due to be held at Musselburgh Racecourse, 6 miles east of Edinburgh, on Tuesday 31st December 2013 and Wednesday 1st January 2014. The second day's racing is scheduled to be incorporated into the New Year's Day National Hunt race meeting. The New Year Sprint final is to be televised as part of Channel 4's coverage of the horse race meeting.
The 110 metres New Year Sprint, with a £4000 first prize, will be supported by 90 metres Open, 110 metres short limit invitation, 90 metres Veterans, 60 metres Youths and 90 metres Youths events. In addition there will be middle distance events with 4 furlong (880 yds, 800 metres approx) races in both Open and Youths categories. All events feature a handicap starting system.
Click here for more details on the New Year Sprint meeting.
In the event that the National Hunt meeting on 1st January is cancelled, the second day's running will be held alongside the National Hunt meeting later in the month. Cancellation of that horse race meeting will not result in a further postponement of the running.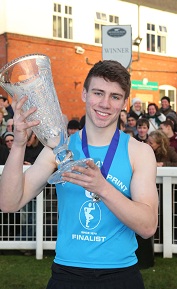 144th New Year Sprint winner Ben Robbins of Edinburgh AC.
Photo: Grossick Racing Photography.
The New Year Sprint has attracted top-flight domestic and foreign runners throughout its history. Most recently, 1995 winner Doug Walker, went on to become European 200m champion. 1987 winner Bill Snoddy (U.S.A.) was formerly the world's fastest man (wind assisted) and World Professional Record holder over 120yds, George McNeill, won in 1970. Sprinters such as Willie McFarlane of Glasgow (1930s) and Harry Hutchens of London (1890s), who are considered the finest of their generation, also graced the event with superlative performances.
The Sprint is more than just a battle between the fleetest of foot. For this event features a handicap starting system designed to ensure that any runner, no matter what their ability, age or sex, has a chance of scooping the big first prize.


The longevity of the Sprint, the participation of champion runners, the prospect of a front marker clinging on for victory and the determination of all runners competing at the most inhospitable time of year are all ingredients that lend the Sprint an almost mystical air.
Brief History: Highlights of the Sprint and its characters since 1870.
144th New Year Sprint: All about last year's meeting.
Past Sprints: Results since 1990; reports, photos, video clips from more recent meetings.
Sprint Search: A powerful mechanism for searching the database of New Year Sprint entrants and results since 1990.
Roll of Honour: Browse or search the complete list of New Year Sprint winners.
Sponsors: Who sponsored which event.

The New Year Sprint meeting is a fixture of the open athletics circuit organised under the rules of the Scottish Highland Games Association (SHGA). The circuit includes traditonal Highland Games famous for "heavy" events. Games in the Scottish Borders are run under the rules of Borders Athletics.
The New Year Sprint meeting has been sanctioned by British Athletics and Scottish Athletics for competition by amateur athletes who may keep prize money won.
| | | |
| --- | --- | --- |
| You are visitor number | | since 18th December 1998 |
Web site by Sportingworld.co.uk
2 Dec 2013
Click here for the heats of the 145th New Year Sprint.
Heats and starts for the supporting events will be published in a few days.

26 Nov 2013
Starts published for the 145th New Year Sprint.
1 Nov 2013
Entries closed for the 145th New Year Sprint meeting.

13 Oct 2013
Click here for details of the 145th New Year Sprint meeting including entry form.


Close finish in the New Year Sprint final. Photo by John Grossick Photography.

Crowd at the New Year Sprint.