152nd New Year Sprint - Meeting Report
The astonishing and unique 152nd New Year Sprint, held at East Lothian Athletics Arena on 4th July 2021, writes David Rothwell. Where to start? That's easy - with the Big Sprint winner of course!
Massive congratulations to sixteen year old Molly Reville of Edinburgh AC who held on in determined fashion to snatch the £5000 first prize, trophy, but most importantly, the mantle of winner of the 152nd New Year Sprint.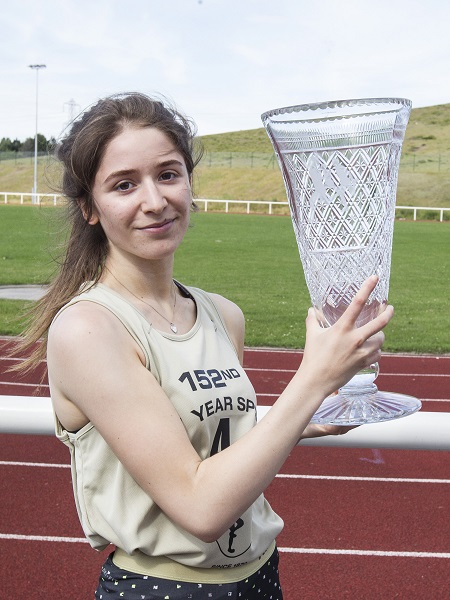 Molly Reville - winner of 152nd New Year Sprint
McBurnie Photos
Molly set her stall out in the first round where she won comfortably in the fastest heat time. Victory was by a similar margin in her cross-tie. However, in the final both Janine Boyle of TLJT and Molly's clubmate Sarah Malone had their own ideas and pushed Molly all the way, with fast finishing Janine pipped by just two hundredths of a second (less than a foot in old money). Sarah was less than half a metre down on Janine.
Then came the men...
But they were worth waiting for, as Krishawn Aiken (Kilbacharan AC) blitzed down the track into fourth place in 10.94 seconds from a start of 5.5 metres, which equated to 10.5 seconds for 100 metres or 3.5 metres inside evens (for traditionalists). Less than a metre back was Douglas Young (Kelso) running slightly outside even time, with Sol Stewart (VP Glasgow) inches behind Douglas with Euan Smith (Central AC) and Alessandro Schenini (Giffnock NAC) hot on his heels.
Final of 152nd New Year Sprint
McBurnie Photos
Whilst an athletics meeting is nothing without its participants, the participants rely on the meeting for a chance to shine - so lets' take a step back and shine the spotlight on this 152nd New Year Sprint. For this was a unique New Year Sprint of many firsts:
First ever summer New Year Sprint.
First time ladies came first and second in the New Year Sprint.
First time ladies came first, second and third in the New Year Sprint.
First time ladies won every single event.
First time a lady (Linda Nicholson) coached the winner.
First winning time inside 11 seconds for over 20 years.
This was also the winner's first ever appearance at the New Year Sprint, though we hope to see her much more of her.
But before we get carried away, spare a thought for the athletes and their supporters who were denied the opportunity to compete as COVID-19 restrictions took its toll on the meeting programme. All the Youths races, which are always popular and hotly contested, were cancelled. The Open 800 metres also fell by the wayside, as was the much anticipated Open 400 metres that was due to make its first appearance for thirty years. All these events were unfortunately cancelled at the last minute as the meeting got ensnarled in local and national pandemic restrictions. Promoter Frank Hanlon sends his apologies and intends staging a full programme of events at the 153rd.
But back to the present and the unique 152nd New Year Sprint. With so much disruption caused by the pandemic, this might easily be remembered as the COVID Sprint. But the more compassionate sex came to the rescue with their dominance on the track, helping to ensure this will forever be known as the Ladies Sprint.
Some might be object to the preponderance of lady winners this year. But females make up roughly half the population, so why shouldn't they take half the glory? The New Year Sprint ran without a lady winner for over 140 years, so why isn't it about time that ladies start featuring highly? At the New Year Sprint (and similar promotions in the Borders and Highland Games), we operate a handicapping system that is founded on the ideal that everyone should have a chance of winning, rendering our sport a perfect vehicle for turning dreams into reality.
Athletes made the most of (what must have been) the warmest ever weather at a New Year Sprint meeting. What's more, rain that was forecast to fall all day never materialised, and neither did the thunderstorms that threaten to derail proceedings. A light following breeze during the Sprint heats turned more into a cross breeze for the cross-ties. All in all, a very pleasant day.
Behind the scenes a marathon effort was made to ensure the 152nd New Year Sprint meeting got over the finishing line amid pandemic restrictions. Special mentions go to Ally Love of Scottish Athletics and Lynda Gilroy in one of her final acts as Athletics Development Officer at East Lothian Council. Lynda deserves additional thanks for her tireless and unstinting efforts on the day as COVID-19 Officer.
Back to the track...
New Year Sprint Cross-ties
Warm favourite (in most peoples eyes; there were no bookmakers present) Molly Reville (26.0 metres) repeated her heat performance, winning the first cross-tie by 2 metres in 10.89 seconds from Keiran Kivlin of Lasswade AC (10 metres). Molly was the only runner inside 11 seconds in the cross-ties. Kerian's fast finish wasn't quite enough to gain qualification to the final, as he missed out by 0.06 seconds. Stalwart veteran Cameron Smith of Central AC (17 metres) was a couple of metres back in fourth with backmarker Allan Hamilton Edinburgh AC (3 metres) another one and a half metres behind with Euan Urquhart of VP Glasgow (11.5 metres) just beaten into fifth place. Allan couldn't quite match his heat time of 11.36 seconds which equated to a classy 2 metres inside evens.
Janine Boyle (23 metres), winner of the second fastest heat at 10.81 seconds, just a hundredth slower than Molly's heat time, held on well to take the second cross-tie, with Stephen Dunlop of Glasgow (8 metres) a couple of metres behind. Ewen Purves of Edinburgh AC (12 metres) just held on from Jamie Stevenson of Glasgow VP AC (9 metres) with Iain McEwan of Whitemoss AC (12 metres) pipped into fifth.
The lady to watch in the third cross-tie was Sarah Malone of Edinburgh AC (22 metres), winner of the third fastest heat in 10.88 seconds. This race turned into a thriller as Douglas Young of Kelso (9 metres) just caught Sarah on the line in 11.01 seconds, with the photo-finish being unable to separate them. Just over a metre behind, and also qualifying for the final, was Alessandro Schenini of Giffnock NAC (10.5 metres). Another metre and a half back was Connor Henderson of Kilbarchan AC (12 metres) with clubmate Kade Thomas (8 metres) in fifth.
Backmarker Krishawn Aiken of Kilbarchan AC (5.5 metres) caming steaming through to nick the fourth cross-tie from Euan Smith of Central AC (11.5 metres) by inches with Sol Stewart of VP Glasgow (11 metres) a foot back in third. All three qualified for the final. Layla Zuill of Fife AC, who was a couple of metres down on her fast heat winning time of 11.06 seconds was fourth with Nina Cessford of TLJT (28 metres) fifth.
90 metres Veterans Handicap
Nina Cessford of TLJT was probably the freshest athlete in the 90 metres Veterans final, having benefitted, from not one, but two walk overs (in her heats of the New Year Sprint and this event). How much Nina benfitted from this is open to question, but what wasn't up for debate was the clean pair of heels she showed the field. Having said, the deposed New Year New Sprint winner, Ian Horsburgh of Central AC (9 metres) finished like a train, overhauling Fiona Jordan of Clydesdale (29.5 metres), who in turn just held off Darren Towart of Tynedale AC (16 metres). Angela Kelly of Giffnock N AC (31.5 metres) was a metre behind Darren with John Fleming of Kelso (14.5 metres) in sixth.
90 metres Ladies Handicap
The 90 metres Ladies final was another quality field, despite losing three runners to the New Year Sprint final. Sofia Vidak of Falkirk VPH (23 metres) emerged a convincing winner, beating impressive Big Sprint heat winner Layla Zuill of Fife AC (20.5 metres) by three metres. Sofia wasn't entered in the New Year Sprint. A metre behind Layla, Nina Cessford (25.5 metres) just held on for third place from Brogan Beattie of TLJT (22.5 metres). Fiona Steele of Strathearn H (28.5 metres) was a metre and a half back in fifth with Rosie Watson of Law & Dist AC (23 metres) in sixth.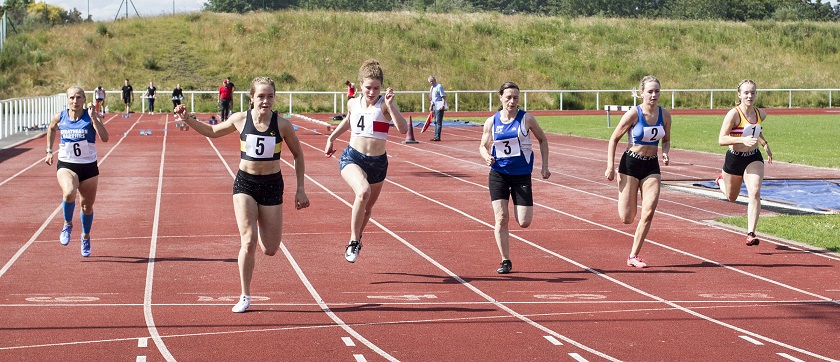 Final of 90 metres Ladies Handicap
McBurnie Photos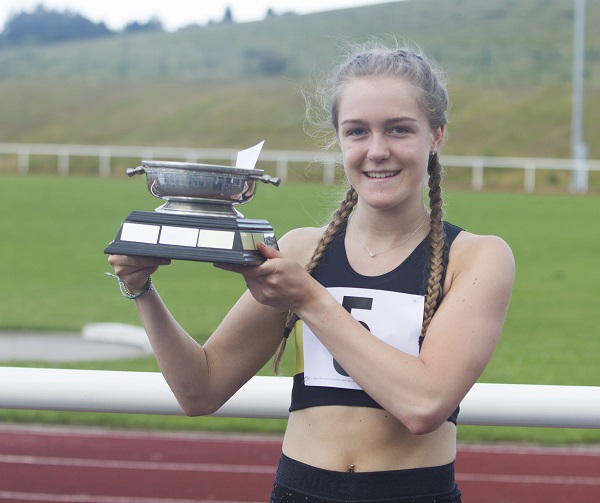 Sofia Vidak - winner of the 90 metres Ladies Handicap
McBurnie Photos
1870 Club Sweepstake
The 1870 Club Sweepstake is your way to support the continuity of the New Year Sprint AND win prizes up to £1000. Here are the lucky prize winners in this year's draw:
Place
Prize
Ticket No
Winner
Town
1
£1000
0231
G. Eland


Great Broughton

Great Broughton
2
£500
0194
E. Kivlin


Portobello

Portobello
3
£250
1481
D. Rothwell


Manchester

Manchester
4
£100
0289
D. Coppola


Macmerry

Macmerry
5
£100
0532
M. Steede


Jedburgh

Jedburgh
6
£100
1351
Cosmo's Ltd


Bonnyrigg

Bonnyrigg
7
£100
1236
S. Cunningham


Haddington

Haddington
8
£100
0060
Harrison, c/o J. Steede


Jedburgh

Jedburgh