150th New Year Sprint: Report
The landmark 150th New Year Sprint was doubly special for victor Greg Kelly of East Kilbride AC as he became just the sixth member of the exclusive club of dual winners. Greg, who won in 2017, emulated the feat of the famous Willie McFarlane of Glasgow, the last sprinter to accomplish this feat over 80 years ago.
Greg's commanding performances throughout the rounds of the Sprint were rewarded with a gold medal, sizeable cut glass trophy and an eye watering £8000 first prize, as promoter Frank Hanlon pulled out the stops to celebrate the outstanding longevity of this historic sporting event.
Greg's victory was on the cards since the heats when he won in the fastest time of the day (running off 5.5 metres); he also recorded the fastest time in the cross-ties. These performances were reflected in the bookmakers odds of 1/2 before the cross-ties and 1/3 before the final.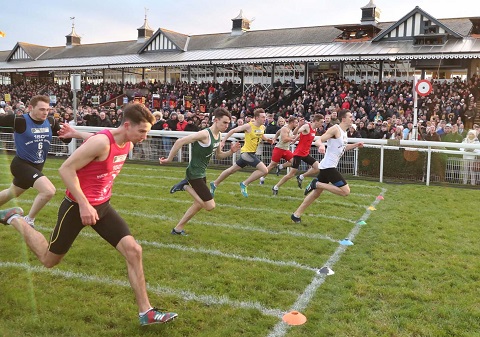 Greg Kelly winning the New Year Sprint. Douglas Young (nearest camera) was second, Alessandro Schenini (red bib, far side) was third, fourth was Murray Blair (green bib), Billy Doyle (yellow bib) fifth, James Parker (furthest from camera) was sixth and James Connelly (blue bib) eighth. Seventh place Calum McWilliam is out of shot.
Photo: Grossick Racing Photography.
Douglas Young of Kelso (9.25 metres) was the closest to spoiling Greg's party but he was down almost a metre at the finish. A foot further back was Alessandro Schenini of Giffnock N AC (10 metres) who qualified from both rounds as a fastest looser - missing out to Douglas in his heat and Greg in the cross-ties.
Inches behind Alessandro in fourth, but out of sight on the other side of the track, was Murray Blair of Lasswade AC (11 metres) who impressed with a fast time in his heat and the second fastest time in the cross-ties.
Second fastest heat winner, and winner of the third fastest cross-tie, Billy Doyle (10.5 metres) of Pitreavie AC, was a foot back in fifth. Just inches behind was James Parker of Hawick (8.25 metres) who had earlier been involved in a very rare dead heat in the slowest cross-tie with Calum McWilliam of E. Kilbride AC (8.25 metres) - last year's winner.
Calum was inches behind James in seventh with Joseph Connolly of Carlisle Aspatria (10 metres), who was a close second in Murray Blair's cross-tie, a couple of feet back in eighth.
So Greg Kelly is a dual winner of the New Year Sprint at the tender age of 19 years. Who would bet against him becoming the first ever triple winner???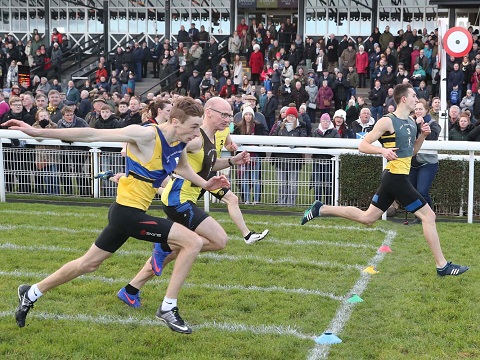 Greg Kelly winning the first cross-tie. Second was Alessandro Schenini (nearest camera), Cameron Smith was third (next to Alessandro). Alexander Young (largely obscured by Cameron) was fourth with Stacey Downie (out of picture) fifth.
Photo: Grossick Racing Photography.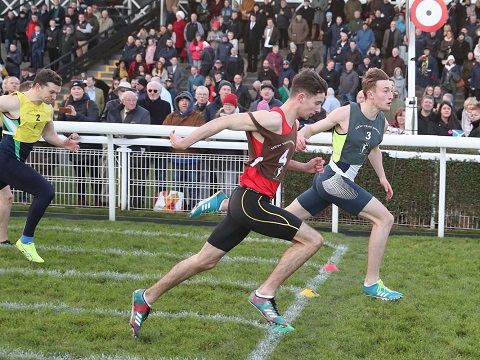 Billy Doyle winning the second cross-tie from Douglas Young. Iain McEwan (yellow bib) was fourth. Third place Euan Urquhart and Oliver Wagner in fifth are out of shot.
Photo: Grossick Racing Photography.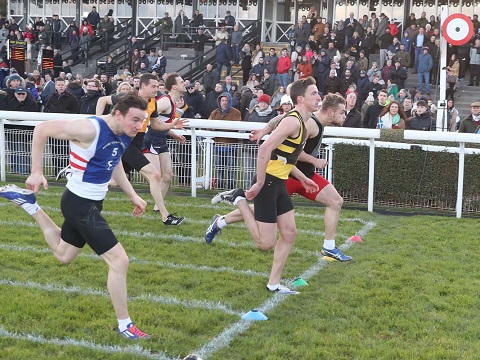 Calum McWilliam (yellow bib) and James Parker dead heating in the third cross-tie. Marcus Archer (nearset camera) was third, Anthony Daffurn (orange bib, partiallly obscured) fourth and Ian Horsburgh (furthest from camera) fifth.
Photo: Grossick Racing Photography.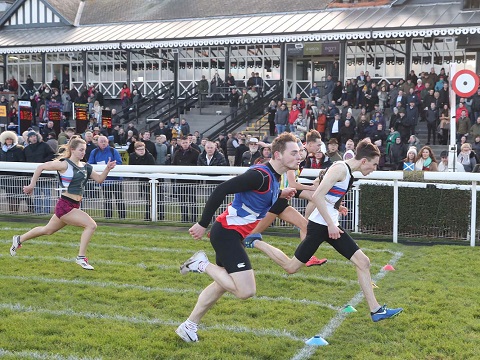 Murray Blair winning the fourth cross-tie from James Connelly (nearest the camera). Megan Busby-Bell (legs visible between Murray and James) was third, Max Leslie (head visible, furthest from camera) fourth and Rianna Sterricks (green bib) in fifth.
Photo: Grossick Racing Photography.
The unique Former Winners' Sprint, run as a 90 metres handicap, was held on the first day of the meeting and added extra spice to this special occasion. With five runner's declaring out of the ten entered, the scene was set for a battle never seen before between a handful of former New Year Sprint winners.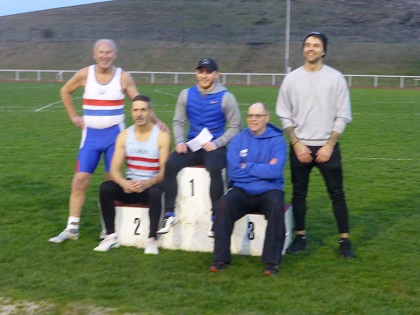 Slightly blurred photo of the five competitors in the Former Winner Sprint. From left to right: Tony Bowman (fifth), Dougie Donald, Cameron Tindle, Tommy Finkle and Daniel Paxton (fourth).
Photo: David Rothwell.
The competitors and their victorious years were: Tommy Finkle 1989, Dougie Donald 1991, Tony Bowman 2007, Daniel Paxton 2010 and Cameron Tindle 2015.
Front marker Tony Bowman of Leeds City AC (27 metres) held the early lead but was hauled back by Dougie Donald of Oakham (15.5 metres) by the 60 metre mark. Dougie looked to be striding to victory despite the best efforts of Tommy Finkle of Jedburgh (12 metres) who was closing the gap steadily. Second backmarker Daniel Paxton of Hawick (8.75 metres) was also making ground but not appearing to threaten for the lead. However, backmarker Cameron Tindle of TLJT, running off the scratch mark and who also appeared to be out of the reckoning, scorched through to snatch the mantle of Champion of New Year Sprint winners right at the finish.
Cameron's winning time of 9.89 seconds represented "even time" which was very impressive considering the unfavourable conditions.
Tony Bowman's performance was sufficiently remarkable given his 83 years; but mixing in the severe health problems suffered only a few months the athleticism he displayed appeared almost superhuman. Tommy and Dougie, who are both well into their veteran years, also put up outstanding performances that belied their ages. This was Tommy's first appearance at the New Year Sprint meeting for 17 years.
The other events that were settled on the first day of competition at East Lothian Athletics Arena in Prestonpans were the 200 metres Open Handicap, 800 metres Open Handicap, 90 metres Veterans Handicap, 90 metres Ladies Handicap , Youths 90 metres Open Handicap , Youths 200 metres aged under 13 Open Handicap , Youths 200 metres aged under 16 Open Handicap and Youths 800 metres Open Handicap .
The 200 metres Open Handicap saw a clear victory for Andrea Goodman of Dundee HH in 20.44 secs, when running from the front mark of 42 metres. Closing in for second place was Max Leslie of Edinburgh AC (20 metres) with George Armstrong of Kelso (24 metres) just beaten into third place. Veteran Malcolm McPhail of NMAC (36 metres) was fourth.
Probably the closest battle of the day, if not the meeting, saw Cameron Smith of Central AC (13 metres) just pip Julian Ions of NMAC (14 metres) in the final of the 90 metres Veterans Handicap. The two runners appeared to be locked together as they chased down the track at the side of adjacent lanes. Just when a dead heat looked the likely conclusion, Cameron's lunge for the line saw him take victory. Two metres back in third was Tommy Finkle (15 metres) with Graeme Armstrong of Edinburgh (19.5 metres) hanging on for fourth. Darren Towart of Tynedale AC (14 metres) finished at Graeme's shoulder with Angela Kelly of Giffnock N AC in sixth.
In contrast to the 90 metres Veterans Handicap final, the 90 metres Ladies Handicap saw the most comfortable of victories with Rianna Sterricks of Lasswade AC (19.5 metres) winning by two metres in 9.35 secs. Nina Cessford of TLJT (24 metres) just held off Stacey Downie of Edinburgh AC (16 metres) for second place with Brodie Cowan of Jedburgh (21 metres) edged out into fourth. Natasha Turnbull of TLJT (22 metres) was close behind in fifth with Michelle Donnolly of Workington (23 metres) 2 feet back in sixth.
Ewan Dyer of Pitreavie AC (37.5 metres) brought a touch of class to the 800 metres Open Handicap and proved too strong for the rest of the field, winning in 1 min 51.47 seconds, repeating his victory of two years ago. Ewan's best performance last year saw him ranked 16th in the Scottish 800 metres rankings. Donald Bradley of Inverness H (140 metres) came in second a couple of seconds behind with Craig Bell of Forfar (150 metres) pipping Skye Marshall of Pitreavie AC (also on 150 metres) for third. David Allan of Balloch (110 metres) edged out former New Year Sprint finalist Matthew Fleming of Kelso (115 metres) to fifth place. Craig Angus of Moorfoot AC (80 metres) was seventh. It is now 27 years since Craig Bell's triumph in the event.
The meeting always starts with a bang with the heats of the 90 metres Youths Open Handicap delivering plenty of fast running and close, hard fought races. Well, this year was a little different - plenty of quality sprinting on show but only 2 heats of the 8 featured anything like a close finish. The final was a different matter though, with only half a metre separating the first three runners. Winner was Rebecca Grieve of Pitreavie AC (17 metres) who just caught Emma Clark of Larkhall (25 metres) in a thrilling race, with Dean Patterson, also of Larkhall, (14 metres) in third. Another Larkhall runner, Kaitlyn Clark (23.5 metres) was fourth with Josh Landers of Walkerburn (19 metres) 4 metres back in fifth. Last year's winner Maddison Murdoch of Larkhall H (16 metres) was sixth.
The two heats of the Youths 200 metres aged under 13 Open Handicap saw swathes of runners heading down the home straight causing a headache for the results team. Six runners qualified for the final with Larkhall getting a 1-2-3 with back marker Dean Patterson (26 metres) winning from Emma Clark (51 metres) and Chloe Hill (43 metres).
There was a marked decrease in numbers for the heats of the Youths 200 metres aged under 16 Open Handicap which saw Harris Morrison of Inverclyde AC (44 metres) win his heat by all of 15 metres. Harris predictably won the final, in 21.53 seconds, though Rebecca Grieve (36 metres) did her level best to catch him and ended up running over half a second faster than in her heat. Joint backmarker Liam Woods of East Kilbride AC (7 metres) ran into third place with Finn Douglas of TLJT (8 metres) in fourth and Ben Lyall of Kelso (7 metres) just catching Maddison Murdoch (30 metres) for fifth place.
All but one of the runners entered in the Youths 800 metres Open Handicap turned out and it was Harris Morrison of Inverclyde AC (130 metres) who once again took the spoils by a large margin. Caleb McLeod of Pitreavie AC (140 metres) was second, just ahead of backmarker Ruaeaidh Elder of WCAC (50 metres). Aaron Glendinning of Leithenburn AC (165 metres) was fourth ahead of Gracie Linton, also of Leithenburn AC (185 metres) with Hannah Steel of Lothian RC (140 metres) in sixth.
The first day's racing was held on 30th December 2018 at the East Lothian Athletics Arena in Prestonpans. The second day's racing was held on 1st January 2019 at Mussleburgh Racecourse. The weather was dry and relatively mild on the first day's racing at around 10 degrees, but there was a strong cross wind. The second day was also dry and started with a light frost and clear skies; again the runners were subject to a strongish cross wind.