148th New Year Sprint: Report
17 year old Greg Kelly of East Kilbride AC stormed through the field to claim victory, the gold medal and four thousand pound first prize in the 148th edition of the famous New Year Sprint event which was held on 30th December 2016 at the East Lothian Athletics Arena and on 1st January 2017 at Muselburgh Raceourse near Edinburgh.
Greg, running off a start of 8.25m, justified his tag of favourite, as he overhauled second favourite Jordan Charters of Dolphinton (10.25m) with 15 metres to go, winning by a clear 2 metres in 11.54 secs. Charters claimed second place just ahead of Emily Dagg of TLJT (20.5m) who had won the fastest heat a couple of days previously. Inches behind Emily was clubmate Cameron Caldwell (9.5m) with Kelly's clubmate Calum McWilliam (9.5m) just behind in fifth place. A metre back was Craig Bruce of Selkirk (11.5m) followed closely by fellow Borderer Glen Desport of Hawick (9.5m). Veteran Doug Donald of Oakham (18m), the winner in 1991, completed the field.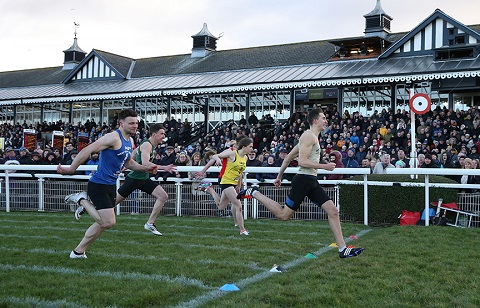 Greg Kelly winning the New Year Sprint from Jordan Charters (blue bib), Emily Dagg (yellow bib) and Cameron Caldwell (obscured by Emily). Calum McWilliam (green bib) was fourth
Photo: Grossick Racing Photography.
Greg's win was a step up from his performance in the 90 metres youths handicap two years ago where he finished in second place, though he then went on to win the 60 metres under 16 youths handicap. Fellow finalist Cameron Caldwell also featured in those races, coming sixth and second respectively.
Times in the final were generally a couple of metres or so faster than in the cross-ties due to a strongish headwind fading out to a light cross breeze.
The cross-ties held earlier that day provided spectators the first opportunity to assess the form on the turf of the runners who had qualified from the heats held on the tartan track two days earlier.
The first cross-tie featured Emily Dagg, the fastest heat winner in 11.50 secs. Emily lost out in a desperately close finish to Calum McWilliam who qualified from the heats as a fastest loser and won the tie in 12.12 secs. Over two metres back were Charlie Carstairs of Lasswade AC (9.25m) and Connor Gillon of Kelso (10m) who were awarded the same time.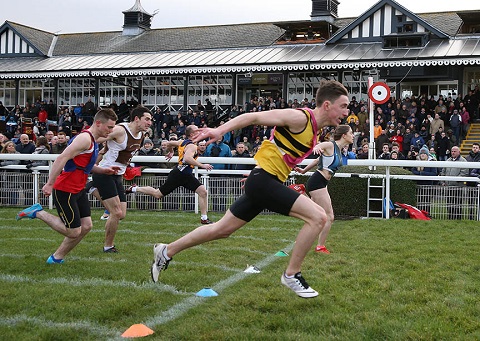 Calum McWilliam winning the first cross-tie from Emily Dagg. Charlie Carstairs (brown bib) was third and Connor Gillon (blue bib) fourth.
Photo: Grossick Racing Photography.
Cameron Caldwell won the second cross-tie in 12.17 secs, overcoming the challenge of Stacey Downie of Edinburgh AC (17.25m), to win by a clear 2 metres in 12.17 secs. Inches behind Stacey was veteran Cameron Smith of Central AC running off only 12m. A further half metre behind was Ellie McGinty of Edinburgh AC (19.5m) who was making her New Year Sprint debut.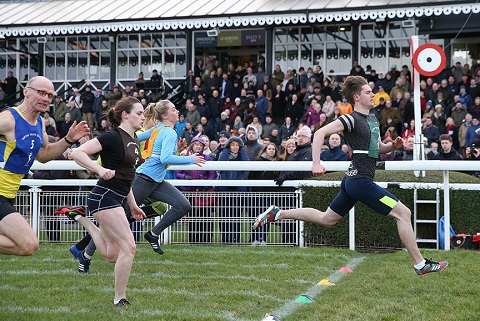 Cameron Caldwell well clear in the second cross-tie from Stacey Downie (black bib) with Cameron Smith (blue bib) in third and Ellie McGinty in fourth.
Photo: Grossick Racing Photography.
Doug Donald raised a few eyebrows as he strode to an impressive victory in the third cross-tie in 12.30 secs, beating Sarah Malone of Edinburgh AC (19.5m) into second place by almost 2 metres. Craig Knowles of Corstorphine AC (7.5m), the favourite to win the tie, was inches behind Sarah with last year's winner and the first ever female winner of the New Year Sprint, Jazmine Tomlinson of TLJT (17m), a couple of feet behind.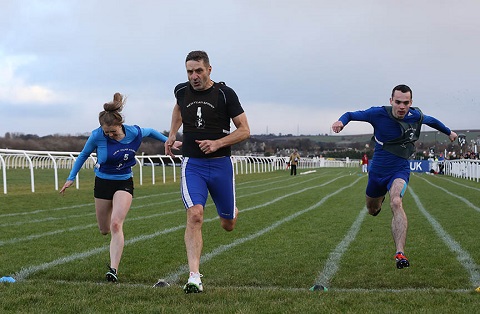 Doug Donald beating Sarah Malone in the third cross-tie with Craig Knowles (green bib) in third.
Photo: Grossick Racing Photography.
The fourth and last cross-tie was probably the most eagerly awaited as it contained 3 runners awarded almost the same fast heat times: Craig Bruce (11.61 secs), Jordan Charters (11.66 secs) and Glen Desport (11.66 secs). Charters proved to be the quickest of these by 3 metres, but it was Greg Kelly who delivered the outstanding performance, just pipping Charters in the fastest cross-tie time of 11.78 secs. Desport just got the better of Bruce with veteran Gary Leek of Edinburgh AC (20.5m), who couldn't quite repeat the magnificent form that saw him a creditable second to Charters in his heat, in fifth.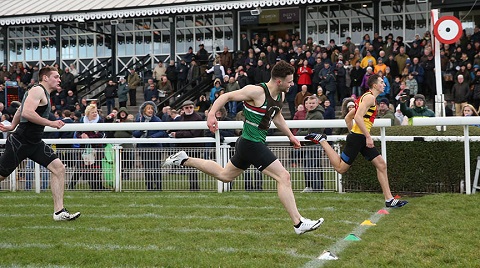 Greg Kelly pipping Jordan Charters to the line in the fourth cross-tie. Craig Bruce (left of picture) was fourth.
Photo: Grossick Racing Photography.
The meeting was drawn to a close by the Backmarkers Invitation Handicap in which Cameron Caldwell was a clear winner ahead of Craig Bruce and Connor Gillon. Charlie Carstairs and Steven Park couldn't be separated for fourth place. Runners started 7 metres behind their New Year Sprint marks.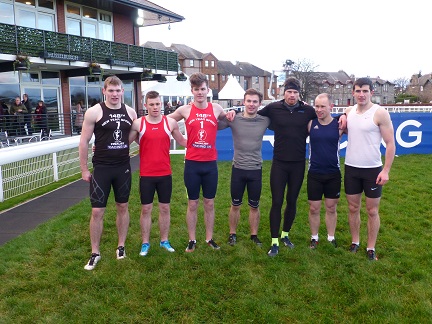 The competitors in the Backmarkers Invitation.
The bulk of the supporting events were held on the first day of proceedings on the tartan track of East Lothian Athletics Arena in Prestonpans. Conditions were less arduous than last year when Storm Frank was raging, but runners still had to contend with a strong cross wind on the home straight.
The final event of the day, the 90 metres Open, delivered its usual dose of excitement with rivals and clubmates Sarah Malone (17m) and Stacey Downie (15m) almost inseparable at the finish. Both runners were given the same time of 9.62 secs with Sarah given the nod over Stacey and getting revenge for her loss in the Ladies final. A metre back in third was Shaun Tonner of Clyde Valley AC (8m) inching out Cameron Smith with Doug Donald in fifth and Charlie Carstairs (7.75m) sixth.
As just mentioned, Stacey beat Sarah by a whisker in the 90 metres Ladies final (which was also a cross-tie of the 90 metres Open) with Philippa Robertson of Hawick (19.5m), competing in the adult event for the first time, 2 metres back in third with last year's winner Bethan Malley of East Kilbride AC (19.5m) in fourth.
The veterans final proved the fastest of the cross-ties of the 90 metres Open with Doug Donald holding off Cameron Smith's strong finish to win in 9.69 secs. Ronnie Hunter of Crieff (16m) was third a half metre behind with David McKay of Kelso (14.5m), the easy winner two years ago, in fourth place.
Distance events were retained following last years popular acclaim. The 800 metres Open Handicap was won by Ewan Dyer of Pitreavie AC (40m) in 1 min 51.91 secs, 20 metres clear of Matthew Fleming of Kelso (105m). A few metres back Owen Miller of Fife AC (50m) narrowly edged out Dean Whiteford of Innerleithen (65m). The 1600 metres Open saw a dramatic finish as Owen Miller (105m) desparately lunged forward to beat Matt Dougall of Galashiels (115m) but only succeeded in pushing Dougall over the finishing line! Dougall just managed to keep on his feet and recorded the winning time of 4 mins 16.07 secs. Kobe Stevens of Peebles (120m), last year's winner, was a few seconds behind in third with Fraser Logan of Central AC (180m) following on in fourth.
The 90 metres Youths final saw the customary blanket finish with only 1 metre separating the first 6 runners. Second backmarker Sol Stewart of Larkhall Harriers (9m) scorched through the field to win in 9.95 secs, inches ahead of Struan Wells of Leithenburn AC (9.5m), followed by Tom Kelman of Haddington AC (23m) and backmarker Billy Doyle of Pitreavie AC (8m). Doyle was penalised a metre for a false start - an action that probably cost him the race. Brogan Beattie of TLJT (23.5m) was inches behind in fifth place.
Last year's 60 metres Youths races were replaced by events over 200 metres. In the aged under 13 event, Josh Landers (48m) won by half a metre in 23.88 secs from Brogan Beattie (46m) with Luke Rathie (39m) just behind. All three runners were from Leithenburn AC. The aged under 16 event saw Billy Doyle power through the field to win in 22.63 secs from Matthew Newman of Hawick (36m) whose strong finish held off Ben Lyall of Kelso (18m) and backmarker Max Leslie of Edinburgh AC (10m).
The 800 metres Youths race saw a clear victory for Rebecca Grieve of Edinburgh AC (185m) who demonstrated her versatility having won the Youths 90 metres and 60 metres under 13 events last year. Craig Angus of Moorfoot RC (115m) came second comfortably ahead of Cale McLeod of Pitreavie AC (175m) with Fraser Clyde of Teviotdale Harriers (115m) beating Hannah Steel of Lothian RC (175m) for fourth place.