147th New Year Sprint: Report
History was made at Musselburgh Racecourse as 18 year old Jazmine Tomlinson of Tweed Leader Jed Track Athletics Club became the first ever female winner in the 146 year history of the famous New Year Sprint event. Jazmine picked up the four thousand pound first prize and gold medal that goes with victory of the New Year Sprint which was held on 30th December 2015 at the East Lothian Athletics Arena and on 1st January 2016 at the raceourse near Edinburgh.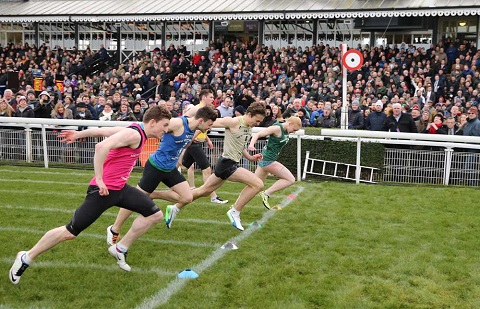 Jazmine Tomlinson (green bib) winning the New Year Sprint from Ryan Houten (beige bib) and Keiran Reilly (red bib)
Photo: Grossick Racing Photography.
A lady winner has been on the cards for a few years now with Jazmine herself narrowly beaten into 3rd place in last year's final. In 2013 Gemma Nicol was third, having won the fastest cross-tie and two years earlier Fiona Cleat was just edged out into second place.
Back to this year's final and Ryan Houten of Cardrona repeated his second place of last year, again being beaten by the tight margin of 0.03 second. Less than 2 metres separated the first 6 runners in what was an enthralling race for spectators in the packed Queen's Stand. Houten was the bookies red hot favourite throughout the meeting starting the cross-ties at 2/1 on, having won the fastest heat, and was off the board for the final. Jazmine Tomlinson was a very good bet at 6/1 after the heats but her odds shortened considerably to 6/4 having qualified for the final in the second fastest time. Hot on Houten's heels were Keiran Reilly of Lasswade AC (third), Jordan Charters of Dolphinton (fourth) and Callum McWilliam of Giffnock N AAC (fifth). A metre behind in sixth was Craig Bruce of Selkirk followed by Emily Dagg and Cameron Tindle, both of Edinburgh AC.
For once conditions for the running at Musselburgh were favourable with a slight following wind and firm ground thanks to a very mild over night frost. The turf was in a particularly good state having clearly benefitted from the recent upgrading.
The weather at Musselburgh contrasted dramatically with that at the East Lothian Lothian Athletica Arena where the supporting events and New Year Sprint heats were held a couple of days earlier, with a very strong gusting wind tearing into the runners faces on the home straight.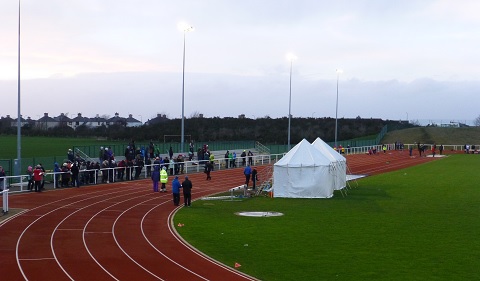 Waiting for the 90 metres cross-ties at the East Lothian Arena
Keiran Reilly of Lasswade AC had a very successful meeting, winning the 90 metres Open and making the most of the extra day's rest before the Big Sprint cross-ties, gaining an excellent 3rd place in the final. In the 90 metres Reilly just edged out Emily Dagg of Edinburgh AC, who was also a heat winner in the Big Sprint and who went also made the Big Sprint final. Martin Barr of East Kilbride was a good 2 metres back in third place with Greg Kelly of East Kilbride AC and Bethan Malley of Whitemoss AC on his shoulders. Veteran David Rae of Hawick finished sixth.
The popular Ladies 90 metres saw a desperately close finish between Emily Dagg and Bethan Malley that even the photo-finish couldn't separate, resulting in a rare dead heat. 2 metres back in 3rd place was Michelle Warwick of Workington with Cara Murdoch of Larkhall YMCA and backmarker Stacey Downie of Edinburgh AC both only inches behind. Rachel Robertson of Lasswade AC, 3rd in last year's final, was sixth.
The Veterans 90 metres also saw a very tight finish between former British Sprint Champion David Rae of Hawick and Cameron Smith of Tullibody. Whilst both runners were awarded the same time the photo-finish favoured Rae. Smith had earlier beaten Rae by a metre in the heat. Bob Douglas of Balerno was third, closely followed by both Colin Bruce of Selkirk and Doug Donald of Oakham with Iain Smith of Longniddry sixth.
Cal McLennan of Edinburgh AC sprinted to a fine victory in the 800 metres Open pulling away from second placed Dominic O'Hare, also of Edinburgh AC, in the home straight and finishing 4 metres clear. O'Hare was the winner two years ago. In third place was Owen Miller (last year's winner) of Dunfermline T & F with Craig Robertson of Logierait in fourth. McLennan showed excellent versatility coming second in his heat of the New Year Sprint and winning his heat of the 90 metres Open.
The finish in the 1600 metres Open was much closer with Kobe Stevens of Peebles finishing just ahead of William Bates of Tullibody with Owen Miller repeating his third place in the 800 metres. Stephen Penicuik of Fife AC was fourth.
The 110 metres invitation was a chance to see the fleetest sprinters in action and it certainly lived up to expectation. Despite having to contend with a fierce headwind all the runners put up in splendid performances with the two scratchmen, Cameron Tindle of Edinburgh AC (last year's Big Sprint winner) and Dylan Ali of Hawick (the Big Sprint winner of two years ago) pulling through the field to finish in 12.50 and 12.51 seconds respectively. These were superb times in adverse conditions.
As always the 90 metres Youths event saw a high turn out with plenty of close races. The final went to form with near front marker Rebecca Grieve of Edinburgh AC, the winner of the fastest heat, just holding off Sam Archibald of Leithenburn. Billy Doyle of Pitreavie AC, who won the second fastest heat was third a metre behind Sam, followed by Angus Bryce of TLJT and Laura Munro also of TLJT.
Rebecca continued her fine form into the 60 metres under 13 event where she won her heat and the final. Madison Murdoch of Larkhall, who had earlier won the 800 metres Youths event, was close behind followed by Kate Smith of Tynedale H AC in third and Tom Kelman of Haddington AC in fourth. Ross Birrell of Pitreavie AC was fifth.
Christabel Antwi of Edinburgh AC won the 60 metres under 16 event, having earlier scorched through the line easily winning the fastest heat. The final was a different matter, though, as Sam Archibald led her almost to the finish, losing out by a foot. Euan Smith of Central AC was third followed by Aaron Russell of Peebles with Laura Munro of TLJT in fifth.
The 800 metres Youths was won by Madison Murdoch in the fast time of 1 min 50 seconds from Pippa Carras of Edinburgh AC with Scott Tindle of TLJT in third and Derri Burton, also of TLJT, in fourth. Josh Abott of Chirnside HR, last year's winner, was fifth.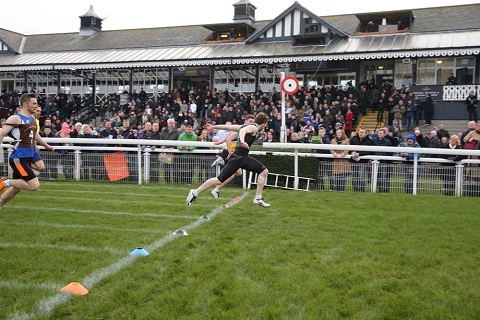 Keiran Reilly pipping Callum McWilliam to the line in the second cross-tie. Cameron Tindle (brown bib) was third
Photo: Grossick Racing Photography.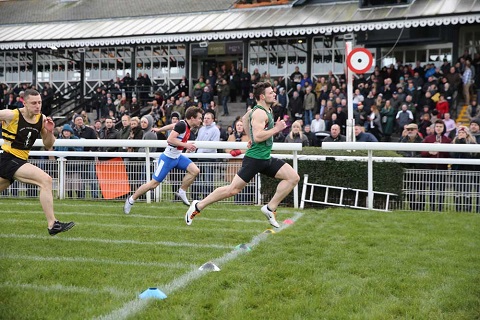 Jordan Charters winning the fourth cross-tie from Sandy Wilson (red bib) and Martin Barr (black bib)
Photo: Grossick Racing Photography.